I realized after I finished my gadget update post that I had neglected to say anything about e-readers. And that probably says more than I need to here. It's a category that's a lot less important than it was a few years ago. I think that tablets have really taken over the market. There's an appeal to a device that "does it all." Yet, I still find I have an affinity for the dedicated e-reader. They may be limited in function but they do make for an enjoyable reading experience. They're inexpensive, small and light weight, perfect for reading in bed. Nor do you have the distractions of Facebook, email, games, etc. that you have on a tablet.
I even bought a new e-reader this year, a new
Kindle Paperwhite
wifi with special offers for $119 from Amazon. I really like it. I liked the original but the screen had some odd discolorations so I opted for a new one that seems to have worked out those bugs. I sold the old one back to Amazon. I did learn an important lesson with the first gen Paperwhite and that was to forego the 3G in the future and save $70. I'd really found 3G useful in an earlier Kindle. I could get on and browse the web and check email in a pinch using their cellular data connection. But Amazon seems to have tightened down on 3G use on their Kindles so now I could really only use it to buy additional content and whispersync with other devices. I found it wasn't worth the extra cost and I got very little back for the extra expenditure upon resale. I think I only got about $5 more for the 3G version than they were offering for wifi only. So, unless you have no wifi in your home and/or you travel a LOT, I'd suggest going with wifi only. But check first to make sure they have coverage in your area. AT&T is the 3G provider and there are still a lot of blank spots in their coverage in Montana. As for the special offers, they seem to be limited to promoting books at this point in time and I don't find that off putting at all. Amazon is also still offering its
basic Kindle
@ $69 with special offers.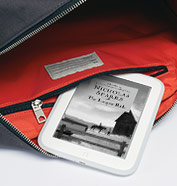 I don't think there's anything new in Barnes & Noble's line of Nook of e-readers. The
Nook Simple Touch
has been marked down for the holiday season to $59. Such a deal that it's temporarily sold out online as of this writing. I thought that was a really nice little e-reader. Also, a sell back as I just wasn't using it. But I could easily recommend it to someone who's just looking for a nice, basic, inexpensive e-reader. It's better hardware and software than the basic Kindle. The Nook answer to the Paperwhite is the
Nook Glowlight
@ $119. I've never actually used one of these but I'm sure it's very comparable to the Kindle in price and features. The main difference is that it's a Barnes & Noble product instead of Amazon so if you're into the B&N ecosystem, this is probably the one to choose. It also has the advantage of in store support if you happen to live in an area with a store. But, like Amazon, B&N seems to have shifted most of its attention to tablets.
Also, still in the running in the e-reader category, is the Kobo line. They seem to be a lot more prevalent in Canada and overseas so if you're shopping for a non-US reader, I'd definitely give Kobo a second look. Their smallest and most inexpensive model is the
Kobo mini
@ $59. I do have one of these and I think it has to be the cutest and most portable e-reader ever. They've upgraded their first gen Paperwhite and Glowlight competitor known as the Kobo Glo (still on the market @ $129.99) to the
Kobo Aura
@ $149.99 and Kobo AuraHD @ $169.99 (you can get $20 off with code on most Kobos during the Christmas season). The Aura is not a model I've had a chance to test so I can't tell you whether or not I think it's worth the extra cost. It's main selling point seems to be a larger size - 6.9" instead of 6" which seems to be the standard for e-readers. Kobo also has several tablets in their Arc line that come in different sizes and screen resolutions. Once again, probably comparable to Amazon and B&N's tablet line. All the Arcs are Android based with the unadulterated Android that uses the Google Play Store. So, there's another plus.
Sony has apparently abandoned the e-reader market in the US. That's okay with me because they made devices that I really wanted to like but just couldn't. Somehow, they just didn't perform as well as their competition. They always seemed a bit clunky, technologically behind and overpriced. I still have a lovely red PRS-T2 that I bought because I loved the idea of being able to access MontanaLibrary2Go directly from an e-reader without the aid of a computer and Adobe Digital Editions. Unfortunately, it is so difficult to navigate from the Reader and the constant slow screen refreshes blind me that I find it's virtually unusable. And none of the buy back companies want it. So, if you're coming to Offline and want a Sony Reader of your very own, let me know and it's yours. It needs a good home. Sony also makes tablets.
Basically, the hardware from all of these manufacturers is similar. The big difference is from whom you get your content. All will work with Overdrive and MontanaLibrary2Go for e-books. None of these e-readers plays downloadable audiobooks. I believe all Kindle, Nook, Kobo and Sony tablets will. Kindles use Amazon's proprietary format. Nooks and Kobos use EPUB. The EPUB readers generally require Adobe Digital Editions. I HATE Adobe Digital Editions. The nice thing about buying EPUB books is that you chan choose from a variety of online booksellers. So, you needn't spend a lot of time worrying about the future of Barnes & Noble or Kobo. But it will be easier to stick with the online bookstore on your device.
What I continue to like about Kobo is their partnership with independent booksellers. You can buy a Kobo from an indie bookstore and set up an account with them. Then a percentage of the money you spend on content from Kobo will go back to help support that bookstore. It's a great idea. Unfortunately, I don't often remember about it and have a tendency to go to Amazon first. It doesn't hurt that I often have a credit with them. But if you want an e-reader and want to support an indie bookstore, Kobo is definitely something to look into. You can even do a search and find out where there's an indie bookstore near you supporting Kobo ebooks -
http://www.kobo.com/indie
. And I believe you don't have to use a Kobo e-reader to support an indie bookstore. You can buy content from Kobo and read it on a tablet using their reading app.
GoodEReader Reveiws - GoodEReader offers video reviews comparing different e-readers. Really handy in depth stuff that might help if you're stuck between a Paperwhite and a Nook Glowlight, for example.